Description
Microsoft Windows Server 2 Core 2016 Datacenter Volume licence
Microsoft Windows Server 2 Core 2016 Datacenter replaces Microsoft Windows Servers 2012 R2 Datacenter and it supports the operation of your data centre with its high degree of automation and extreme reliability.
Windows Server 2 Core 2016 Datacenter helps facilitate daily processes, creates the possibility for innovation while being highly efficient and thereby saving costs.
In addition, improved security levels ensure more protection and minimize risks by detecting any threats early on.
The Datacenter version allows an unlimited number of virtual machines.
Microsoft moves to a changed licensing model with the Windows Server 2016 as opposed to its predecessor. Effective immediately, cores must be licensed, respecting two rules:
1. Each physical processor must be licensed with at least 8 cores.
2. Each physical server must be licensed with at least 16 cores.
Our table helps you get an overview.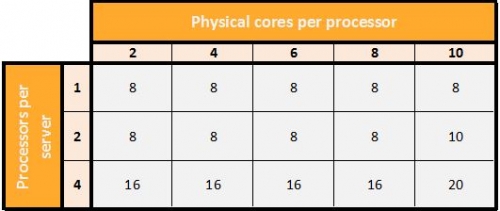 Specification
Scope of delivery

license right

Language

Single Language

Version

2016 Datacenter

State of product

used
HINT: Please note that we cannot provide a program image for download. A data carrier is required for successful installation. You'll also find licenses with a matching data medium in our shop.